Rooms full of ideas
In space, message, emotion and atmosphere become tangible. Winkels Interior Design Exhibition plans, designs and implements premium spatial concepts for brands, products and objects. We develop interior designs of any scale and of high design and craftsmanship quality.
For temporary use or for a lifetime.
We have been working with renowned brands and customers for more than five decades and have remained down-to-earth, good-humoured Lower Rhine people. Direct, honest and enthusiastic about really good craft.
If you have demanding tasks, we will find creative solutions and implement the concept quickly, precisely and with the utmost care. Because even though we think and act internationally, we produce almost entirely in-house.
INTERIOR
Our demand on every form of room architecture: The triad of design, material and manufacturing quality must be right down to the last detail.
DESIGN
Your corporate identity is our conscience. And the framework for ideas that have a precise fit and are tailored to the target group.
EXHIBITION
It all started in classic exhibition and trade fair construction. Perfection in craftsmanship, extensive knowledge of materials and reliability in meeting deadlines are the basis of our many years of expertise.
"The multi-faceted variety of individual design possibilities is almost unlimited. I call it the kaleidoscope of possibilities. It's measured in quality, flexibility and the demand for creative excellence."
Heinz Winkels, founder






































"Sustainability is not just a word for us, it is a value that is incorporated into our business processes."
Dominik Winkels, Managing Director

Certification
Temporary production and sustainability! We make these two topics compatible. We are committed to this with our environmental management system according to DIN 14001 and our conscience. Our ISO 14001 certification was granted in 2021, is constantly monitored, recertified every three years and officially proves the implementation of this international environmental management standard. It covers all aspects for a continuous improvement of environmental performance and defines the establishment, implementation, maintenance and continuous improvement of our environmental management system.
Read here what we at Winkels Interior offer and implement to make your project as sustainable as possible.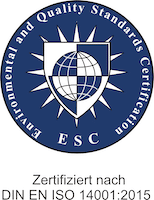 Team
In addition to our consultants, Winkels also includes planners, designers, architects, carpenters, painters and logisticians. What they all have in common is their above-average commitment to our family business. We are proud of this and of the satisfaction of our long-standing customers. Would you like to become part of our team? You can find our current job advertisements here.